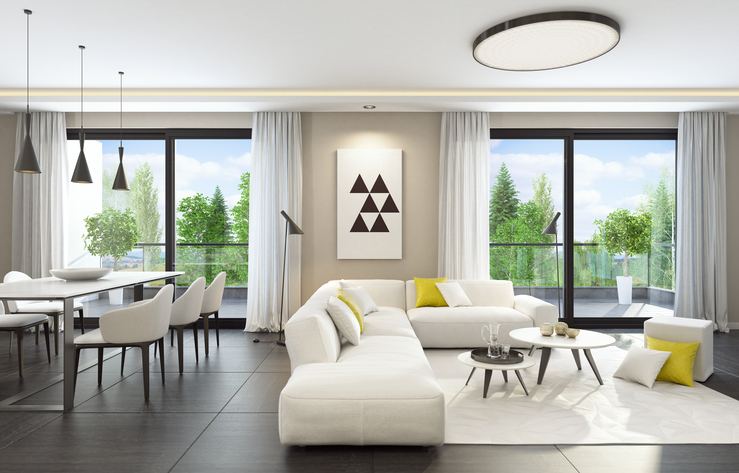 Knowing how to stage your home can save you money, not to mention prepare your property for a quicker sale. These 5 easy steps can make your home look more appealing to buyers in no time:
Enhance your home's curb appeal

Make that first impression count! A good start to a home showing can set the tone for the rest of the tour.

The quickest and cheapest way to boost your curb appeal is to work on your garden. Tidy up, rearrange, and highlight your best blooms. Get rid of rusty garden accessories, trim hedges, and use turf to cover up the bald spots on your lawn.

Minor repairs and fixes on your front porch can give your home an instant wow factor. Replace outdoor lights that are on the blink. Spruce up your entry way by giving your front door a fresh coat of paint or stain.

Brighten up every corner of the home

Light works wonders for improving a home's look and feel. It makes spaces appear larger than they really are and puts people in a good mood.

Improving your home's lighting can be as simple as pulling the curtains open during daytime showings. Adding inconspicuous lamps to dim rooms and corners can also help. If your home has hedges or trees in front of windows, trim the leaves and branches to allow more sunlight to enter.

It also helps to give your walls a fresh coat of paint, using neutral tones like gray, cream, or beige.

Clean your house – the smart way

To make your home irresistible to buyers, you will have to clean like you've never cleaned before. It's not as overwhelming as it sounds – just follow these smart cleaning tips:

Zero in on the most attention-catching surfaces. Buyers most easily notice dirty floors and countertops. Keep these high on your priority list for cleaning.
Put in the extra effort in your kitchen and bathrooms. Buyers pay close attention to how well-maintained these areas area. Before every showing, wipe down faucets, scrub the tiles, and mop the floors dry. You can spruce up these spaces with appropriate fragrances to give them a hotel or spa feel.
Treat your house like a book. That is, clean rooms from top to bottom and from left to right. This is the typical sequence our brains are wired to follow, so it will make the chore feel more organized and less stressful.

Depersonalize your home

Personal items should be the first to go when you tidy up. Put away family photos, collectibles, and other bold decorative items and accessories to give your potential buyers a clean slate to imagine themselves in when they visit.

Stage with the buyer in mind

The key to successful DIY staging is to think like a buyer. Remember the rooms and items you looked for the last time you went shopping for a home? What stood out and caught your attention and what turned you off? Use these points to package your home into an appealing and irresistible real estate.
Need help with selling your home? Hot Illinois Homes would be glad to lend a hand. Call us at 847-971-0674 or email your inquiries at rjames@askunique.com.