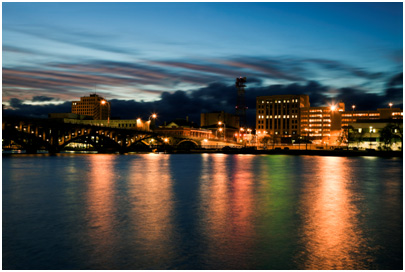 Skyline at Rockford, Illinois
Northwestern Illinois has plenty to offer those who want a fun and relaxing day out. Check out these attractions and historic sites.
Burpee Museum of Natural History
737 N Main St
Rockford, IL

Explore the exhibits at Burpee Museum, the most popular of which is "Jane: Diary of a Dinosaur," one of the best-preserved skeletons of a T-Rex. Other exhibits include the replica of a pre-historic forest, rare rocks and gems, and specimens from southwestern Wyoming's Green River Formation. The museum's interactive exhibits will pique your curiosity and encourage you to learn more about the natural environment.

Discovery Center Museum
711 N Main St
Rockford, IL

Widely regarded as one of the best children's museums in the country, Discovery Center features hands-on activities and fascinating exhibits that the kids will surely enjoy. It's a great way for them to learn about math and physics in a fun environment.

There's a variety of indoor and outdoor displays that are constantly changing, so no two visits are the same. Make the most of the museum's offerings by purchasing annual passes – the kids will love you for it.

Rockford Art Museum
711 N Main St
Rockford, IL

Browse through the museum's permanent collection, which consists of modern and contemporary artworks. They hold as many as three to four feature exhibits each year, so drop by regularly to see what's on display. RAM also organizes lectures, art classes, and guided gallery walks to help you make the most of your trip. The Art Annex, where meetings and small events take place year-round, is also a must-visit.

Rockford Park District
Rockford, IL

The Rockford Park District is filled with art installations. The most popular stretch lies along Rock River, starting from the Nicholas Conservatory. Go on an art walk on this two-mile route, admiring the creations of artists like Jerry Peart and Gene Horvath. It's a great way to discover art while exploring part of the city.

Check out this map.

Laurent House
4646 Spring Brook Rd
Rockford, IL

Designed by renowned architect Frank Lloyd Wright, the Laurent House was built in the early 1950s. It was the first and only house that Wright designed for a differently-abled client – Kenneth Laurent, a disabled World War II veteran, and his wife Phyllis commissioned the architect.

The Usonian-style home features intersecting arcs, a terrace patio, a fish pond, and a carport. It was built with locallysourced materials, and the floor plan allowed for connectivity between indoor and outdoor spaces. Wright called the home his "little gem" and included it in a book that showcased his designs.

Coronado Performing Arts Center
314 N Main St
Rockford, IL

Pick a seat and watch your favorite plays and musicals brought to life on the stage. "Dirty Dancing," "The Wizard of Oz," and "Peppa Pig" are just some of the shows that the cast and crew at the Coronado have put on over the last few years. The theatre also hosts musical performances by the Rockford Symphony Orchestra. The building itself is a historic structure, having opened in the 1920s with exquisite chandeliers and plaster work.
Moving to northwestern Illinois? Call me, Rory James, at 847.971.0674 or send an email to rjames@askunique.com to explore your options.