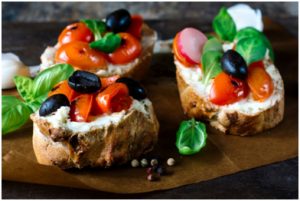 When you hear Chicago, you think "deep-dish pizza." Everyone does. With a delicious carb-loaded meal option (that's supposed to be eaten in moderation) dangling in front of your face, it can be difficult to see the healthy options in Chicago.
Well, cue my theme music because I'm here to help. Here's where to eat healthy in Chicagoland:
The Allis
113-125 N Green, Chicago, IL 60661
If you're having a hard time finding this location, that's because it's kind of tucked away on the first floor of SoHo House. There are not only plenty of tables available to you, thanks to a recent expansion (and The Allis' sneaky location), but there are also some snuggly sofas for you to sit on as well.
Chicago Raw
51 W Huron Street, Chicago, IL 60654
If you've perused literally any of Instagram's fitness hashtags, then you've probably seen something about being Raw Vegan. If you're interested in trying it, Chicago Raw is the place to go. Not only is there an array of (surprisingly) delicious, raw dishes to choose from, but you can also enjoy a detoxing smoothie here too.
Doc B's Fresh Kitchen
100 E Walton Street, Chicago, IL 60611
AND: 65 E Grand Avenue, Chicago, IL 60611
That's right: This place has two locations in Chicago, so there's no excuse for not finding a healthy option in the Windy City. At Doc B's Fresh Kitchen, you can enjoy the staple meal for healthy eating (AKA The Salad) with a zesty, flavorful twist. You can also tantalize your palette by trying baked polenta fries or a wok bowl.
Green Zebra
1460 W Chicago Avenue, Chicago, IL 60642
If you can forgo the meat (but not the cheese or eggs) in your meal options, then the Green Zebra is the vegetarian restaurant for you. Spice things up with a menu that changes seasonally. Try tasty combinations you've never even dreamed of in dishes like watermelon radishes and raspberry mostarda in the Hen-of-the-Woods Mushroom Pate. Bon appetite without the bone.
Lula Café
2537 N Kedzie Avenue, Chicago, IL 60647
Lula Café is the best place to go if you're trying to eat healthy but your friends are not. It's menu and branding aren't traditionally #healthy, but there a number of veggie-filled or vegetarian options available to you. Sure, you can have a salad if you want, but with a menu that changes frequently, you can enjoy a variety of flavors without adding on the calories.
Summer House Santa Monica
1954 N Halsted Street, Chicago, IL 60614
Research shows that the darker the vegetable is, the healthier it is for you. That's why Summer House Santa Monica focuses heavily on making salads with kale instead of the iceberg lettuce you'll get at other restaurants. If you're feeling like bailing on the kale, there are also a number of seafood options for you to choose from as well. Omega 3s are always a good thing! Just take caution if you are (or your date is) pregnant.
If you want to find a home near one of these amazing restaurants, reach out to me when you get a free minute. Call me – Rory James at 847.971.0674 or send an email to rjames(at)askunique(dotted)com